PotterCast 88: Road Trip!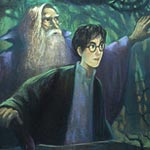 May 08, 2007
Uncategorized
First, have you hear the news? We're going on tour! And doing live shows with Harry and the Potters! Check it out! And hear more about it right now on our 88th PotterCast, our Harry Potter podcast, is now online: To listen, just hit the "Play" button on the right side of the page (—>), or use iTunes, or direct download. In the show this week:
-This week's fan interview is with Melinda, a fanfic author whose work is being mistakenly circulated as a leaked copy of DH! Yikes!
-Canon Conundrums: The symbol on the UK DH cover. Doris makes a discovery about somewhere we may have seen it before…
-The trinity, ,masonic influence, "Hermione's thing," the Indiana Jones Book, and more.
-Our tour with a twist – talking, rocking, cross country bloggin'
-Your trailer responses!
-John and Sue are obsessed with house-elf lodging
-Not that we're not worried about lodging, ourselves. Tons of tour talk!
-Dancing like Peanuts!
-John has a brand new fan challenge, DDR-video style. This time it's your choice.
-Help Melissa keep the PDA at bay! [email protected]!
-Filk the RENT "Santa Fe" song for us!
-Would Jo rock out to "Save Ginny"?
Running time: 1:29:19
Links:
TOUR DATES!
HarryPotterSeven.com
Scribbulus
Podcast Alley
Digg
Direct download (38 MB).
Direct download low-bandwidth (8 MB).
Remember you don't need an iPod to listen. Listen easily on iTunes, which you can download and install here, by clicking here to listen, or you can just use the streaming Flash player at PotterCast.com or just on the right side of this page. Discussion of the PotterCast is right here. Enjoy!