Harry Potter Trio Featured in Teen Vogue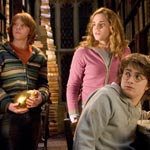 May 17, 2007
Uncategorized
The Harry Potter Trio, Dan Radcliffe (Harry Potter), Rupert Grint (Ron Weasley) and Emma Watson (Hermione Granger), are featured in a new article for the June/July issue of Teen Vogue. In the article each actor speaks of their experience of filming Harry Potter and the Order of the Phoenix and of their lives off set. In the article, Dan Radcliffe says of this upcoming film: "With this one, it's like everything has come together."
Rupert Grint also gives says a little in the article of what he likes to do during his time off from filming:
"…I golf a bit," he says "and I go-cart," and his dressing room boasts a pool table, a dartboard, and near by, a ping pong table at which he frequently beats the pants off poor Dan. "I was looking forward to Quidditch," Rupert admits– the fifth book has Ron joining the Gryffindor team, but that subplot was cut from the film– "though any stunt stuff is good to do."
You can read the entire article, with even more from Dan, Rupert and Emma, here from HPANA.
Thanks to all who mailed!