Win a Free "Order of the Phoenix" Wii Video Game from EA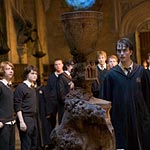 Jun 05, 2007
Uncategorized
Electronic Arts, the makers of the Harry Potter video games, officially announced a new contest for fans to win a free copy of the Harry Potter and the Order of the Phoenix Nintendo Wii video game. Beginning today, when you sign up for the OotP video game newsletter, you are automatically entered into a drawing to win the upcoming game. You are able to sign up for the newsletter via the EA homepage by clicking on the Harry Potter promotion located on the 'flash box' slider bar or via this direct link.
According to the contest rules, entrants must be aged 13 years old or older and residents of the US to qualify for the prize. The contest ends on July 14th and the thirty lucky winners will be notified on July 16th. Good luck to all!
Also, be sure to check out our Leaky's own Image Gallery for screenshots and other images from the game, as well as trailers that can be seen in our Video Galleries. The Harry Potter and the Order of the Phoenix video game will be released on June 26th and available for play on the PS2, PS3, PSP, GameBoy Advance, PC-DVD, Nintendo DS, Xbox 360 and Wii platforms.