French Release Date for "Harry Potter and the Deathly Hallows"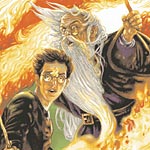 Jun 06, 2007
Uncategorized
News came today from Gallimard, the publishers of the Harry Potter books in France, who announced that the seventh book in author J. K. Rowling's series will be published in France on Friday, October 26, 2007. The book, translated by Jean-François Ménard, will have 850 pages and retail for 26.5 €.
In addition to this news, we also recently received word from a number of our readers that the Danish publication of the final Harry Potter book will be October 13th.
Thanks to everyone who mailed in to let us know!