New Death Eater Art Gallery on Official "Order of the Phoenix" Website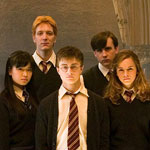 Jun 08, 2007
Uncategorized
The official Harry Potter film website has been updated to feature a brand new Death Eater Art Gallery, that displays many of the masks from the upcoming Order of the Phoenix film. Warner Bros. also let us know this afternoon that in addition to the official artwork, site users will be able to create their own Death Eater art and submit them into the gallery to be seen by all!
To get started, download the 'Death Eater Art Kit' which contains some items you might find useful, or create your work entirely from scratch. Register to post your artwork on the site. Your art can be rated, downloaded, embedded on your blog or you can send it to a friend.
Harry Potter and the Order of the Phoenix will be released in theaters on July 11th.