Mac Attack! Apple Announces Harry Potter Games Due this Summer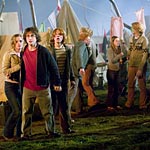 Jun 11, 2007
Uncategorized
At the World Wide Developer Conference today, Apple CEO Steve Jobs announced that EA would be bringing the Harry Potter video games back for the Mac computer systems, and proceeded to show a demo of the new Order of the Phoenix game running on OS X which will be due out in this summer. One website which is carrying the keynote speech live, quotes a rep from EA, Bing Gordon, as saying "The only thing better than living on a mac, is living at Hogwarts."
More details when we get them! Due to be released at the end of this month on June 25, you can see various previews of the Harry Potter and the Order of the Phoenix video game here in our video galleries and via the EA OotP website.
Thanks to James, zainab, computerk and leopardgrl!