Scholastic Asks: Where are the Horcruxes?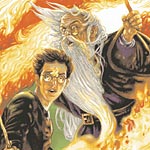 Jun 12, 2007
Uncategorized
In the fifth of their countdown questions leading up to the release of Harry Potter and the Deathly Hallows, Scholastic is now asking fans "Where are the Horcruxes?" Good question…and UPDATE: Voting is now open. You can choose THREE from the following:
Diagon Alley
Hogsmeade
Hogwarts
Only with Death Eaters
Godric's Hollows
Ministry of Magic
Azkaban
St. Mungo's
Among Muggles
Elsewhere
Also new is a very nice cover poster of "Order of the Phoenix," which you can print out at home using this link as well as print out a bookmark of the new question, here.