JKR:"Scar" No Longer Last Word of "Deathly Hallows," Was "Euphoric and Devasted" When Writing Final Chapter of Book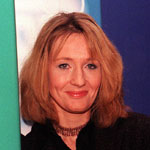 Jul 06, 2007
Uncategorized
The Telegraph is reporting this evening that author J. K. Rowling described the completion of the final chapter of Harry Potter and the Deathly Hallows as "the most remarkable feeling" in the upcoming interview on BBC1's Jonathan Ross program. During the taping, which took place on this Thursday, Jo went on to say this when asked about writing that momentous final chapter after almost 20 years with the series:
"Finishing the book is a relief. I can't think of anyone who could know how I felt. Actually finishing it was the most remarkable feeling I've ever had… [I felt] euphoria, devastated, when I finished one chapter near the end I absolutely howled, it had been planned for so long.

"I was in a hotel room on my own, sobbing my heart out. I downed half a bottle of champagne in one and went home with mascara all over my face. It was really tough."
Update: A few more details have emerged from the Jonathan Ross interview via a new article on BBC News. This article features a two more quotes from the author, the first, when discussing the fact that the filmmakers adapting Harry Potter for the screen have kept the cast entirely British, called it a "hell of an achievement." Jo also gave another tidbit of information regarding the last word written in the final Harry Potter book. The common thought among fans for the past number of years was the series' text end with the word 'scar.' Jo reveals it has, in fact, that been changed:
"Scar? It was so for ages, and now it's not. Scar is quite near the end, but it's not the last word."
The full Jonathan Ross Show interview will air July 6th on BBC1 at 10:35pm BST. If you are able to capture the footage of the interview, please send it in!