Helena Bonham Carter Talks Bellatrix in New Interview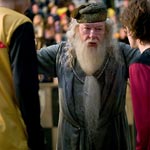 Jul 09, 2007
Uncategorized
The AP has a new interview online with actress Helena Bonham Carter, who plays Death Eater Bellatrix Lestrage in the fifth Potter film, Harry Potter and the Order of the Phoenix. In the article Miss Carter talks of the upcoming film, her role as Bellatrix and of her characters wardrobe and personality saying:
"At first they thought, `Oh, we'll just put her in a sack,'" Bonham Carter said. "But I said, `There's no way I'm going to wear a sack. I've got to be a sexy witch.'"

…

"I also wanted everything to be splitting at the seams and a bit of `Sunset Boulevard' disintegration to be going on, because she's been in prison for so long. She has a very posh, aristocratic carriage, because she's pureblooded, but at the same time she's completely divorced from reality."
Miss Carter goes on to mention an interesting tidbit regarding her characters role. She notes that when considering taking relatively small part as Bellatrix in OotP, she remembers a note from author J. K. Rowling saying, in her own words, "…she's going to be very significant in the last one."
Harry Potter and the Order of the Phoenix will be in theaters July 11.