Leaky's UK Premiere Coverage Streaming in High-Definition on Yahoo!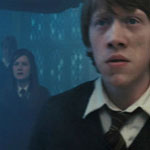 Jul 15, 2007
Uncategorized
At long last (but you'll see why) we present our coverage of the Order of the Phoenix premiere in London, UK, from July 3. This footage is live on Yahoo! and is streaming and downloadable in High-Definition quality. It includes interviews with J.K. Rowling, Daniel Radcliffe, Rupert Grint, Imelda Staunton, Katie Leung, Tom Felton, David Heyman, Evanna Lynch and David Yates, in huge quality format or available to stream live on your desktop. The actors talk about what's coming up for the sixth film as well as the fifth.
To see the footage, go to this page and choose clip #17. Clicking it will stream the video, and you can find download links to the right.
We will have a longer cut of this footage up at a later date, including interviews with more cast and longer comments, soon.
Enjoy!