Harry Potter Actors Take on Painters and the Mob (Updated)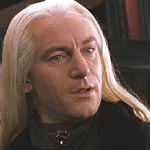 Sep 26, 2007
Uncategorized
We have an update for you today on two actors, Jason Isaacs and Robert Pattinson, regarding projects they are involved in outside the Harry Potter films.
First, actor Robert Pattinson (Hufflepuff great Cedric Diggory) has been cast as legendary Surrealist painter Salvador Dali (see his paintings via VirtualDali.com) in the upcoming "Little Ashes" film. British Film Magazine reports that Robert "plays Dali opposite Javier Beltran as Lorca, and Matthew McNulty, who features in the forthcoming Joy Division biopic "Control", as Dali's filmmaking collaborator Luis Bunel."
The second season of Brotherhood starring the wonderful Jason Isaacs (Lucius Malfoy) begins this Sunday, September 30 at 10:00pm (EST) on cable channel Showtime. Noting in a recent interview "I'm welcomed with open arms by all of the criminals in Rhode Island!," Jason describes the return of his hit television series which was filmed recently here in the US.
"We arrived back for the second season, and people just went crazy. It was like Norm walking into Cheers," says Isaacs, whose character begins the season recovering from traumatic head injuries received in a severe beating that ended the first season. "If we were as well-received in the rest of the world beyond Providence, we'd be very, very happy."
The official Brotherhood website now has a promo clip online of the upcoming season. CAUTION: The program is clearly rated MA, and please note this video does contain scenes of graphic violence, sex, strong language, and drug use; this is not suitable for young children. Keeping this in mind, to watch this clip, click here, then on the upper right side "The New Season: Get a Sneak Peek"
UPDATE: Continuing the press for the launch of Brotherhood, Variety now has a profile of Jason, where it asks him about three books that have meaning to the actor. Jason responded ""Harry Potter and the Chamber of Secrets" by J. K. Rowling. Brilliant storytelling that, in many ways, changed my life. Can't wait till my girls are old enough for me to read it to them. " Also, the LA Times has another article profiling the upcoming season on "Brotherhood."
Jason Isaacs is also working on two other films, one is called "La conjura de El Escorial" (The El Escorial Conspiracy) which also stars Julia Ormond reports Variety, as well as "Stopping Power," with John Cusack .