Possible Filming in London for "Half-Blood Prince" Scenes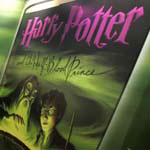 Oct 12, 2007
Uncategorized
There is news tonight of possible filming set to occur in London, England for the upcoming Harry Potter and the Half-Blood Prince film. With absolutely no detail on the address or area of this supposed film location, London Taxi Tours has now posted two photos (click here to view) of a building somewhere in London, claiming they "understand this area is going to be the setting for Professor Slughorn's house." The website also reads "Warner Brothers crew have been spotted preparing the front of this house ready for the forthcoming filming," however no further information as to the dates of this filming or who would be participating were revealed.
While this looks promising, we can say that filming has begun on the sixth film, as we reported earlier today crews were in the Scottish Highlands filming scenes for "Half-Blood Prince." Also readers will remember filming at Lacock Abbey is set to take place this month as well. We will update you more on this possible Slughorn filming when we can.
Thanks to Andy from HarryPotterFanZone.