Dumbledore is "Machiavellian," and Snape "Vindictive" Says J.K. Rowling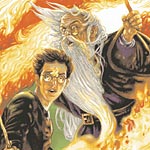 Oct 16, 2007
Uncategorized
New details pertaining directly to the Harry Potter books emerged tonight, as MTV has now posted some of the questions and the fascinating answers from J.K. Rowling at the Open Book Tour today in Los Angeles. In the Q & A Jo was asked about Professor Dumbledore ("he's quite a Machiavellian figure, really"), Hedwig, and the always controversial Severus Snape. Jo said:
"Snape is vindictive, he's cruel. He's not a big man," she insisted. "But he loves. I like him, but I'd also like to slap him hard."
To read the rest of the article, with some very interesting further and SPOILER ific details, click here. Please note for those wishing to avoid spoilers to Deathly Hallows, a caution is given.