On Matters of Faith: JKR Talks Christian Themes in "Harry Potter and the Deathly Hallows"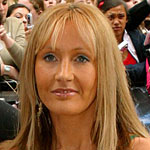 Oct 17, 2007
Uncategorized
Author J.K. Rowling has given some frank new answers about the nature of Christian and religious themes which feature quite heavily in Harry Potter and the Deathly Hallows. In a new interview with MTV, Jo discusses her initial reluctance to bring religion in an open manner within the Harry Potter books, however her reasoning for this was that she was afraid that it might give away the plot and ending of the series.Quotage:
"To me [the religious parallels have] always been obvious," she said. "But I never wanted to talk too openly about it because I thought it might show people who just wanted the story where we were going."
Stating that she does attend church, Jo continues on to describe her feelings on death and religion as a whole:
"The truth is that, like Graham Greene, my faith is sometimes that my faith will return. It's something I struggle with a lot," she revealed. "On any given moment if you asked me [if] I believe in life after death, I think if you polled me regularly through the week, I think I would come down on the side of yes " that I do believe in life after death. [But] it's something that I wrestle with a lot. It preoccupies me a lot, and I think that's very obvious within the books."
While there are extensive SPOILERS contained in the interview, Jo does address some significant (and perhaps controversial) events that happened in "Deathly Hallows" that had strong Christian themes and basis. To read this very good interview, click here.