Wizard and Muggle Photography Contest Now Open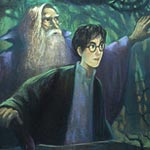 Oct 17, 2007
Uncategorized
We have a new contest to bring you for the month of October: The Wizards Dressed as Muggles Photography Contest! Remember those fabulous outfits that wizards use when trying to blend in to Muggle society? Well, we want to see you dressed as a wizard dressed as a Muggle. Put on your craziest outfit, and then have a friend take a picture of you mixing it up with the Muggles! Sitting at a bus stop, for example, or checking out a book at the library. Go on, be brave! Don't send us pictures cooking dinner in the privacy of your home, or hanging out at a Halloween party… it's not as embarrassing as you think, people will assume that you are headed to a party, little do they know that you are shooting for a chance to win a contest!
Entrants may send in one entry of their own, original work in the form of either a digital photograph or scan of a paper photo to [email protected] no later than midnight EST on October 31, 2007. Images are accepted in .jpg, .png, and .gif formats, contained in a file sized no larger than 1MB. Remember to include the name you'd prefer to be identified as along with a 100 word or less explanation of your photo. Anyone not associated with the judging over the age of 13 may enter and as always, a strict PG-13 content rating is enforced.
Full contest information can be found on the Contest Page along with discussion of our contests located on the Leaky Lounge.
Good luck to all who enter!