First Photos Online from J. K. Rowling Open Book Tour Stop in New Orleans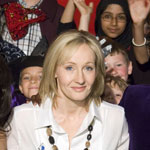 Oct 18, 2007
Uncategorized
Harry Potter author J. K. Rowling continued her Open Book Tour to the city of New Orleans, Louisiana today where she hosted a reading for 1,600 school children from the state's 80 Orleans Parish public and charter schools. The first photos of this event are now online and can be seen here courtesy of the AP. A particularly touching photo is now also online from the Times Picayune, which shows Jo pausing the signing of her book to speak with a fifth grader who has enjoyed all seven Harry Potter novels in braille.
Rowling, who read the first chapter of "Harry Potter and the Deathly Hallows" at the New Orleans Convention Center as well as answered twelve lucky students' questions, expressed the importance of reading by telling her audience:
"If you can't read what else do you have? It helps in everything else. You've got to read."
The AP is also reporting Harry Potter publisher Scholastic, has donated '10,000 copies of "Harry Potter and the Sorcerer's Stone," Rowling's first Harry Potter book, to Orleans Parish public school students. The company also announced it is donating a complete set of the Harry Potter series to each public school and public library in New Orleans.'
More news is expected to come from this event. We will update as soon as further details come online.