Night Scenes for "Half-Blood Prince" to Film Next Week in England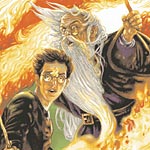 Oct 18, 2007
Uncategorized
A few months ago, we first told you that filming for "Harry Potter and the Half-Blood Prince" was due this month in Wiltshire, England. That filming is now set to take place starting next Wednesday, October 24, during the evening hours beginning at 5pm through 5am in the village of Lacock. Actors Dan Radcliffe (Harry Potter) and Ralph Fiennes (Lord Voldemort) are reportedly among those who will be filming scenes for three days in the village which will be used for the sixth Harry Potter movie. The Wiltshire Times reports that these will be "exterior scenes," and in addition "film crews want to shoot late outdoor scenes featuring the ghoulish Death-Eaters." There has been work done recently in the village preparing for the night shoot by the WB crew as locals say:
"There has been a lot of preparation going on and they have been doing things to the outsides of houses on Church Street."They have been painting the outsides of houses and adding bits to them too. We are all going to be given dark blinds of some kind to put across our windows at night to help prevent our lights shining out when they are filming. That way we can get on with our lives as normal and carry on with whatever we would normally do when they shoot scenes."

Road signs and markers have been put out in Cantax Hill, West Street and Church Street warning drivers of road closures between 5pm and 5am.
Very exciting indeed. For those lucky enough to be in the area while the filming is going on, please send in your reports and photos of the filming to [email protected] and we will post them.