Location Photos for Upcoming "Half-Blood Prince" Filming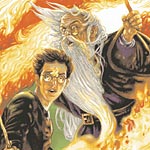 Oct 22, 2007
Uncategorized
Previously, we told you filming for the upcoming Harry Potter and the Half-Blood Prince movie was to take place this week in the village of Lacock, England. TLC reader Phil was thoughtful enough to take a few photos of Church Street, where several of the scenes are due to be filmed starting this Wednesday. You can see two of his photos here(note: no film crews or cast present). You can also read more about this charming village, via this link.
Anyone who happens to be in the area later this week, please send in any filming reports photos and the like, and we will post them.
UPDATE: Thanks to eagle-eyed TLC Reader Andrew for pointing out that at the end of the street in this photo, is the same home they used in "Sorcerer's Stone" for the flashback scene of James and Lily's home in Godric's Hollow. Andrew said that while on the London Taxi Tour of Lacock, he did make a stop at this same house.
Harry Potter and the Half-Blood Prince is currently in production, and will be released in theaters November 21, 2008.
Thanks very much Phil!