Melissa Anelli to appear on MSNBC This Afternoon, Washington Post Chat Tomorrow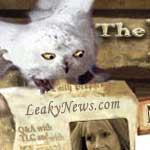 Oct 22, 2007
Uncategorized
Since the revelation regarding Dumbledore over the weekend, the media interest in the story has been high. It continues today as MSNBC has asked our own Melissa Anelli to be a guest on the cable network to discuss the reaction by Harry Potter fans to this news. Melissa will be on very shortly at 3:40pm and again at 4:40pm (Est) Anyone who can capture the video please send it in!
UPDATE: Due to breaking news about bad wildfires in California, the second segment with Melissa will not be on, alas.
UPDATE 2: Tomorrow, ou can take part in a live discussion on The Washington Post Web site tomorrow. The link to the auditorium is here; the discussion will be at 12 p.m. eastern standard time, though you can submit questions now.