J.K. Rowling Honored with "Order of the Forest" Award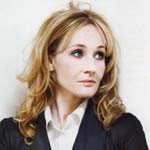 Oct 23, 2007
Uncategorized
As we told you previously, J.K. Rowling is making the final stop of her Open Book Tour today in Toronto, Ontario Canada, and before the event, the Harry Potter author was given an award "in recognition of the role she has played helping save Canada's and the world's forests. A press release states that Jo is "the first international author to be awarded the Order of the Forest."
"JK Rowling asked her international publishers to find paper that was free of ancient or endangered forests. With millions of her books now printed on 'green' paper, she's helped take the heat off of carbon and biodiversity storehouses like Canada's Boreal Forest," said Nicole Rycroft, executive director of Vancouver-based Markets Initiative. Markets Initiative began working with Rowling's Canadian publisher in 2000, Rowling in 2003, and with hundreds of publishers and paper mills since to turn other books 'green'. The last book in the Potter series is considered within the industry to be the most environmentally friendly in publishing history. Sixteen countries are now printing the book on eco-friendly paper up from one publisher, Canada's Raincoast Books, in 2003.
Jo is currently holding a press conference in Toronto, before her event at the International Festival of Authors, which will begin at 11am. Stay tuned , photos and reports on the way!
Update: Reuters now has photos of JKR receiving her award, and you can see them here.