J.K. Rowling on Dumbledore Revelation: "He is My Character" (Updated with Video)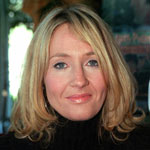 Oct 23, 2007
Uncategorized
At a press conference this morning in Toronto, author J.K. Rowling was asked repeatedly about the recent revelations regarding the background information on Dumbledore and the fact that she said she felt this character was gay. Saying "I'm not kidding," about this statement Jo made last Friday in New York, the author went on to note "I know that it was a positive thing that I said it for at least one person because one man 'came out' at Carnegie Hall."
The Star (DH plot spoiler at link!) continues on to note J.K. Rowling emphasized the information was revealed because she was asked a direct question about it, and said "she didn't feel the need to be explicit about Dumbledore's sexual preferences because she wanted to focus on character development.
"If you were an author then you would understand that when you write the ending it comes at the end," she said."
Update: The entire video press conference with Jo is now online, here. Thanks Mahri!)
Jo continued on to say:
The plot is what it is," said Rowling. "(Dumbledore) did have, as I say, this rather tragic infatuation but that was a key part of the ending of the story so there it is. Why would I put the key part of my ending of my story in Book One?"

Rowling said Tuesday she found it "freeing" to out Dumbledore, adding that the passages about him will mean different things to different readers.

"I think a child will see a friendship and I think a sensitive adult may well understand that it was an infatuation," she said.
UPDATE: Reuters has more now from JKR, who elaborated on her decision to reveal the information about Dumbledore stating:"He is my character. He is what he is and I have the right to say what I say about him."
Jo also said again "she might work on a Potter encyclopedia for charity, but only after a long break."It's like the break-up of a marriage. It's a good idea not to see each other for a while, then maybe you can be good friends afterwards," she said."
Update 3: Photos of Jo from the press conference in Toronto, Ontario Canada are now up in our galleries, here.