"Half-Blood Prince" Location Filming Due to Start Tomorrow; Photo of House to be Used in Movie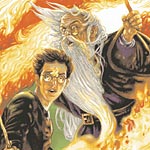 Oct 24, 2007
Uncategorized
We have the first report of sort from location filming for the upcoming "Harry Potter and the Half-Blood Prince" movie. TLC reader Georgie was in the village of Lacock, Wiltshire, England tonight, and spotted a house that had "massive lighting/ filming looking thing in front of it." She then talked with the security guards who told her the home was indeed to be used in the filming tomorrow, however no filming was taking place there this evening. You can see a photo of this house, which Georgie took using her cell, here in our galleries. At this point we do not know if this is to be the home of Slughorn where he is hiding at the beginning of Half-Blood Prince (the security people were uncertain which scene it was for as well), but it looks promising!
UPDATE: TLC reader Pinkmoosely owled to say he was in the Red Lion pub in Lacock, and said some of the local residents had been talking about "blackout blinds" provided to them for use during the filming. Pinkmoosely also reports that even though it was quite late in England, "there is still quite a lot of activity on site a huge marquee and many large flood-lamps lighting certain areas (backstage and crew areas i think)." "The most interesting thing is at the bottom of the village where a mobile platform has a large inflatable cylinder suspended from it, several crew members told me it lights up, and one told me when it is used to resemble the moon (viewed from the end this could be possible)."
All very exciting business indeed. Hopefully when filming does begin, security will not be too tight so additional reports can be made. If you are about in Lacock or near the Abbey, please send in your reports and we will post them.
Thanks very much to Georgie and Pinkmoosely!