Tricks and Treats on the Leaky Lounge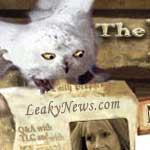 Oct 24, 2007
Uncategorized
Our Leaky Lounge is setting up for a Halloween none will soon forget as they have begun to hide little tricks and treats throughout the Lounge. Be sure to search high and low on the forums as the goodies left by our Mods will change constantly in the lead up to next weekend's event! Check out our Lounge now and get an early start with your Halloween festivities with the…
Trick or Treat on The Leaky Lounge
These treats are portkeys to a prize the Leaky mods created…

To prepare you for the greatest treat – next weekend dark and jaded.
Our Leaky mods are tricksey ones

for some treats, they might be tricks

it's all in fun and when we're done

The Hallows we'll affix.
The event is underway now, so be sure to keep a close eye on the Lounge for some treats, maybe a few tricks, and a whole lot of fun!