Rare First Edition of "Philosopher's Stone" Sells at Auction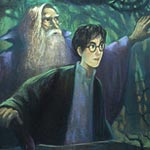 Oct 25, 2007
Uncategorized
Christie's Auction House in London, England recently put up a rare signed, first edition copy of "Harry Potter and the Philosopher's Stone" for auction, which today sold for a staggering £19,700 ($40,420). The BBC reports, experts had estimated the value of this edition between £8,000-£12,000. A proof copy of the first book was also included in the auction which, despite a misspelling of author J. K. Rowling's name on the cover, sold for £2,250.
The article also notes a second auction which featured a signed paperback edition of "Philosopher's Stone" along side a signed first edition hardcover copy of "Harry Potter and the Chamber of Secrets." This set was sold for £1,250 ($2,500).
Thanks to Sarah for mailing!