Apparate! More from Location Filming for "Harry Potter and the Half-Blood Prince" (Updated)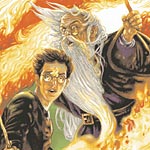 Oct 27, 2007
Uncategorized
Continuing our series of reports from location filming for the upcoming "Harry Potter and the Half-Blood Prince," we have two more reports from dedicated readers Bobbie and Lizzie. Both were in the village of Lacock, Wiltshire, England for the second night of filming on movie six, and both reported that scenes with Dumbledore and Harry arriving in the village of Budleigh Babberton were recorded. Bobbie writes she:
"watched Dumbledore and Harry doubles set up for the next scene, which was where they Apparate into 'a deserted village square, in the centre of which stood an old war memorial' on their way to Slughorn's house. We waited quietly and patiently for another 40 minutes to an hour and it paid off as we were able to watch the filming of the 'real' Harry and Dumbledore do their scenes."
UPDATE: Reader Pinkmoosely has now sent in three more photos, and writes that "the scene was taken about 6 or 7 times and started with what sounded like a blast of air (maybe to help simulate Apparition?) then Harry and Dumbledore spoke a few lines, Dumbledore then walks up the street (to the right in my photos) and Harry either walks with him or jogged up behind to catch him up. The crew then moved the equipment further up the street in the direction Dumbledore and Harry walked to set up the next shot." You can see his new photos here, here, and here.
UPDATE 2: Reader Chris sent in some additonal good photos starting here.
You can see some new photos Bobbie snapped (along with the other photos she and others sent in previously) here in our galleries.Also, as we reported last night, there were paparazzi present, and you can see additional photos from the filming here.
Lizzie also writes she was able to meet actor Dan Radcliffe and get his autograph. She wrote he patiently signed her copy of Half-Blood Prince, along with others and said 'Its so dark, I just wish I could see you all'.
Filming is expected to wrap up this evening in the village. Many thanks to all who have owled with these reports! Harry Potter and the Half-Blood Prince will be released in theaters next year on November 21, 2008.