Haunted Happenings Hit Leaky Lounge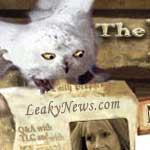 Oct 27, 2007
Uncategorized
It's a spooky, kooky kind of day on the Leaky Lounge, the official forum of the Leaky Cauldron as we celebrate Halloween, Potter Style. Summon your inner Gryffindor, and with your bravery, prepare to meet all sorts of spooky fun and games for our Haunted Happenings event today. The Deathly Hallows Haunted Happenings has now opened, with a very cool scavenger hunt set to begin shortly. The schedule is as follows:
Scavenger Hunt: Starts at 10 am Eastern
Shrieking Shack: Open all weekend – check out our new challenge system on the arcade! You can challenge fellow members to games!
Corner Booth: Scheduled chat from 1-3 Eastern
Trick or Treats: Hidden around in forums 'till the 31st
Lily and Stag Reading Groups: Will be hosting chats in our chat forum
Fan Art Galleries: For avatars and fan art!
Book Club: The monthly reading of Philosopher's Stone starts today.

While you are enjoying the fun of the event, don't forget to look at our Contest Crew's latest contest, "Wizards Dressed as Muggles", or check out our latest issue of Scribbulus!
Have fun (and watch out for Peeves!)