Katie Leung Wins Scottish Style Award (Updated)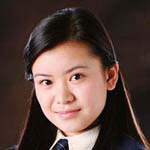 Oct 27, 2007
Uncategorized
A follow up this morning for you as Katie Leung was named Most Stylish Female in the Scottish Style Awards. Previously we told you the actress who portrays Cho Chang in the Harry Potter films had been nominated for this award, and she named winner last night at the awards ceremony held at the Old Fruitmarket Gallery in Glasgow, Scotland. The Scotsman reports :
Miss Leung, 20, from Glasgow, beat off competitors including Ugly Betty star Ashley Jensen, Laura Fraser, star of The Flying Scotsman and 16 Years of Alcohol, Hannah McGill, director of the Edinburgh International Film Festival, and artist Gay Grossart. Miss Leung has appeared in a music video and is being courted by fashion houses.
…
The organiser, Mary McGowne, said the winners represented "the face of modern Scotland".
Update: Video is now online via this link. Thanks for mailing the link Marty!
UPDATE 2: We now have photos from this event, here in our galleries.
Congratulations Katie! Thanks Lisa!