Michael Gambon On Acting, Films, and the Harry Potter Series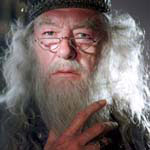 Oct 29, 2007
Uncategorized
The Times Online has a new interview with Michael Gambon who gives a series of answers about his lengthy acting career, as well as some thoughts on the Harry Potter films. The award winning actor who portrays Hogwarts Headmaster Professor Albus Dumbledore says he does not watch too many of the films he is in. Quotage:
MG I just hate the idea of being well known. I know that is almost impossible if you're an actor who has done okay, but I've always fought against it.

DW So when you come on stage, people don't say, "Oh, there he is."

MG Yes, so I'm just an actor playing a part
.

DW So, why then accept a job on a Harry Potter film?

MG Because you're wearing an enormous disguising outfit.

DW You don't get recognised by kids?

MG A child did approach me in a restaurant in Cornwall, but he thought I was Gandalf.

DW Had you seen the films?

MG No.

DW Have you seen any now?

MG No.

DW Not even the ones you're in?

MG Oh, hang on, I saw one.

DW Is that because you don't like to see yourself in anything?

MG No, I find it really alarming. And the older I get, the worse it becomes. I nip in to have a quick look, then I walk out and have a cup of tea, then nip in again. You can hear it in the other room, where it feels better.
As seen by the photos and reports posted over the weekend from location filming, actor Michael Gambon is returning in his role as Professor Dumbledore for the upcoming Harry Potter and the Half-Blood Prince, which is due in theaters next year. Thanks Ryan!