Another Look at Upcoming Harry Potter DVD Box Set and Game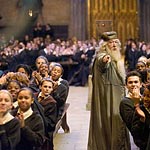 Oct 30, 2007
Uncategorized
We have another look for you today at the special box set containing all five of the Harry Potter films on DVD, as well as another look at the new interactive Harry Potter DVD Game. The promotions company that is working with Warner Brothers sent over these photos, including a good look at the cool trunk containing the DVDs including the "Order of the Phoenix "DVD, all refashioned with new labels such as Harry Potter Year One, Year Two etc. You can also see the individual interactive game, here, which WB describes thusly:
"Choose your house and hone your spell-casting and Quidditch skills with challenges inspired by Harry's time at Hogwarts. Master the tasks, collect the most points for your house and win Quidditch World Cup tickets. Are you ready? Daunting tasks and challenges await, involving moving staircases, the Whooping [sic] Willow, wizard duels and much more.
With the option to compete with up to three other players, and with adjustable levels of difficulty for each individual, fans of all ages and expertise can share the fun, making Hogwarts Challenge the perfect reason for the family to gather round the television this Christmas."
These items along with the individual DVDs of the Harry Potter films are to be released on November 12 in the UK.(later on December 11 here in the US), and are available for pre-order here in our Cauldron Shop. On a related note, actress Emma Watson updated her website today to indicate the launch for these DVDs (including of course, the release of the "Harry Potter and the Order of the Phoenix" DVD) set for November 3 is just for the press, and the event is not open to the public.