"Half-Blood Prince" Casting for Continues in Gloucester; Filming Possibly Next February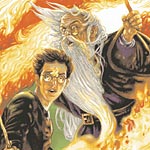 Oct 30, 2007
Uncategorized
The casting of extras to be used in background scenes for the upcoming Harry Potter and the Half-Blood Prince film continues this week in Gloucester, England. Previously we told you crews from Warner Brothers would be returning to Gloucester Cathedral to film scenes for the sixth Harry Potter film, and the local paper has more on the students who are all hopeful to be cast as an extra for the movie. This is Gloucestershire reports:
Excited pupils were measured and had their pictures taken as part of the process. They also had to sign a confidentiality agreement with the movie giants to make sure the beans are not spilt about the film ahead of time. Jonathan Binns, 12, of Minchinhampton, hopes he will be chosen.

He said: "I think they're just looking for people who can act natural.I've read most of the Harry Potter books and I really hope I get a part."

Marketing manager Sharon Bird said: "The whole experience becomes a huge part of school life and children really enjoy being part of what is probably the biggest movie series in history."
UPDATE: While this has not yet been confirmed by WB, we've gotten word that this filming is set to take place next February, around the 7 and 8th during the hours of 7am to 7pm. More when we get it! Thanks Becca and Radcakesfan!