PotterCast 123: This One Was Supposed to be Easy!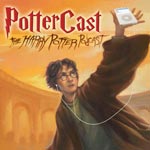 Oct 30, 2007
Uncategorized
PotterCast, our Harry Potter podcast is here this week with more mailbag than ever before! We have gotten a bit of mail over the past week on certain subjects and our own Kristin Brown is back with us to discuss what is on our readers' minds. On this last episode with Melissa before she goes off to write her book, we also talk about the newest pictures of the 'Half-Blood Prince" filming in the UK, Patrick Doyle's moving comments on his battle with leukemia, and more "Order of the Phoenix" DVD release news. To listen, just hit the "Play" button on the right side of the page (–>), or use iTunes, or direct download.
"This One Was Supposed to be Easy!"
– Our last week with Melis so we're airing out the mailbag.
– First pictures come from the "Half-Blood Prince" Set.
– Melissa's interview with "The Gay and Lesbian Alliance Against Defamation."
– Voldemort is all about the dramatics.
– John's dream about Moochka.
– Make vlogs about "Jingle Spells!"
– Thank you for the gifts.
– Theorising about how Neville copes going to work from the Leaky Cauldron.
RT: 1:13:14
Editor: Stede Bonnett
Scribbulus
Podcast Alley
Digg
Jingle Spells Wizard Rock CD
Direct download (33 MB).
Direct download low-bandwidth (9 MB).
Remember you don't need an iPod to listen. Listen easily on iTunes, which you can download and install here, by clicking here to listen, or you can just use the streaming Flash player at PotterCast.com or just on the right side of this page. Discussion of the PotterCast is right here. Enjoy!