News About Companion Books, New Secrets, and More Revealed on JK Rowling.com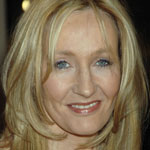 Oct 31, 2007
Well it is not quite a huge trick, but there are a few new goodies this Halloween found on our favorite author's website. In addition to the new Wizard of the Month and Door Opening archive we first told you about this morning, there is an update in the news section now on JKRowling.com.Jo writes that she is still intending on writing the "definitive Harry Potter encyclopedia, which will include all the material that never made it into the novels, and that I will give the royalties from this book to charity. I cannot, therefore, approve of "companion books" or "encyclopedias" that seek to pre-empt my definitive Potter reference book for their authors' own personal gain. The losers in such a situation would be the charities, that I hope, eventually, to benefit." Jo also has given us two new secrets hidden on the site. If you wish to find them on your ownSTOP NOW, otherwise scroll down for more.
SCROLL
MOVE THAT CURSOR DOWN
DONT STOP SCROLLING YET!
SCROLL
KEEP SCROLLING!
ALMOST THERE!
ONE MORE SCROLL!
LAST SCROLL BEFORE THE SPOILERS! YOU ARE CAUTIONED!
Courtesy of our friends Lexicon Bel and Roonwit, here are instructions for finding two new things:
First Clue: In the Rubbish Bin, hold your curser on the Sneakascope until it moves. A ? will be revealed. Then go to the "Extras" section and draw the mark. A handwritten paper from Jo regarding the third year is revealed, and note the very curious names of professors at the top of the page.
Second Clue: Take the portkey to Jo's office. On the lightswitch, click the upper right corner, then move your cursor to peel back the wallpaper Door for a new Potion recipe (egg and Lacewing Fly leg). Portkey back to the main desk and wait for ole Peeves to come by and knock over the pens. Poof! an egg appears. Click on it. Portkey over to the "Fansites" area and wait in the Fansites trophy case for a new Lacewing Fly to flit in and land on the
FSA cup. Click on it.