Translated "Deathly Hallows" Released in Turkey, Russian Translation to Follow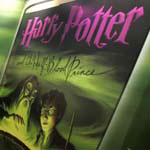 Oct 09, 2007
Uncategorized
Harry Potter fans in Turkey had a treat this past morning, as we told you previously, the Turkish translation of "Harry Potter and the Deathly Hallows" was set to be released today, and we now have the cover art of the seventh book to bring you. This edition was translated by Sevin Okyay and Kutlukhan Kutlu, contains 700 pages and will retail for 24 YLT (approximately $20 USD).
On a related note, details have emerged regarding the release of the Russian translation of "Deathly Hallows," which is set to hit store shelves midnight on October 13th. Large booksellers are set to host release parties, promotional materials for which can be seen beginning here in our Image Galleries thanks to BelomoeFF.
Thanks to HarryPotterCafe for mailing!