New NECA Lucius Malfoy Action Figure, Hot Topic Harry Potter Blankets and More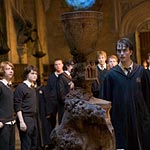 Nov 11, 2007
Uncategorized
Calling all Jason Isaacs fans! There is good news today as NECA has now unveiled their brand new Lucius Malfoy action figure. Based on actor Jason Isaacs, who so memorably portrays the Death Eater in the Harry Potter films, NECA states: "This winter, fans can get this all-new figure, featuring multiple points of articulation, wand, cane, and display base."
Also new from NECA are a striking Bellatrix Lestrange action figure, and the "The Boy Who Lived: Casual Clothing Harry Potter." This action figure is described as "sporting jeans and a hooded sweatshirt, Harry may look like an ordinary teenager, but in his fifth year he has to face some of his most extraordinary challenges yet. Harry features a display base, wand, and prophecy orb." The site indicates these new action figures will only be available as part of the Order of the Phoenix Series 3 set, and will not be available until January of 2008. We will update once these new products are available in our Cauldron Shop.
Continuing on with the new Potter product watch, Hot topic has added a new Hogwarts plaid blanket to their online selection of Harry Potter products, as well as new Gryffindor and Slytherin football tee shirts.
If items for a very Harry Holiday are on your list, Hallmark has the latest Harry Potter ornament available, here. Finally, if you are thinking of a last minute Harry Potter party, Birthday Express has the Order of the Phoenix themed party supplies available, here.