BBC Talks to Dan Radcliffe on HBP, "Deathly Hallows," and More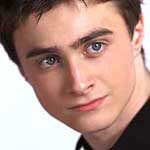 Nov 15, 2007
Uncategorized
The BBC has a new interview with Dan Radcliffe, where he discusses filming on the upcoming Harry Potter and the Half-Blood Prince film. Dan says that the scenes with the students at Hogwarts and such will not be filmed until after the holidays, and notes that "toward the end of the film it gets as dark as the fifth ever was." The Harry Potter actor also says he done a few scenes with actor Rupert Grint who plays Ron Weasley. Says Dan:
Echoing his previously stated sentiments on reading Harry Potter and the Deathly Hallows (I did manage to read it without anyone else spoiling it for me. And I was thrilled) he is looking forward to making the film version of the final installment in the Harry Potter series. "I'm glad I'm having a bit of a break between this film and number seven, but I'm very much looking forward to doing it."
p>You can watch a video of this interview with actor Dan Radcliffe via this link.
Thanks Andy for the links!