J.K. Rowling Updates with New Rubbish Bin Entries On India Religious Festival Controversy and More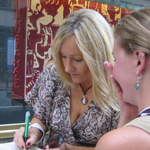 Nov 15, 2007
Uncategorized
Our favorite author is doing some updating on her website today, including two new entries in her "rubbish bin" section of JKRowling.com. First, Jo addresses the matter of the lawsuit involving use of a Hogwarts castle replica in India around the time of a religious festival. JKR clarifies reports claiming that she pursued this matter that went to court, and explains:
"Recently there were a number of reports that Warner Bros. and I had taken legal action against religious charities in India because they constructed a Hogwarts castle as part of a Hindu festival. Here are the facts.The defendants were not religious charities, and theirs was not a religious celebration. On the contrary, it was a large-scale, commercial, sponsored event involving corporations that included a major Indian high street bank. The event was, however, set up while a Hindu festival was going on."
It was Warner Bros who brought the case, because the rights that were being infringed belong to them, not me. My name has to be attached to such proceedings as a legal technicality, because I am the underlying creator of Harry Potter series. Also due to a technicality, Warner Bros were obliged to claim damages as part of their claim. However, they waived this right, and neither sought nor obtained any financial compensation. It is completely false to assert that they, or I, were trying to take money from anybody, let alone two million rupees. The court ruled that Warner Bros. rights had indeed been infringed, and that events such as the one in question would need Warner Bros.' permission in the future. The court also restrained all the defendants from any future events infringing Warner Bros. rights.
Some of the news agencies and newspapers who misreported this story subsequently issued corrections and apologies, but the original, false story is still doing the rounds. In the immortal words of Mark Twain, 'a lie can get halfway around the world before the truth can even get its boots on.'
Also, Jo hilariously addresses some recent tabloid claims about her miraculously "rowling back the years " and other purported physical makeovers. Quotage:
"Apparently I've been 'Rowling back the years' (ho, ho). Yes, the secrets behind my new (ahem) health and beauty regime have been confided to a British newspaper by a 'friend'. Now, most people stop having imaginary friends once they're adults, but mine sometimes drop in on journalists to give them completely unrecognisable accounts of my life. My carbon-based friends, however, if asked whether I jog, do pilates and yoga, have a frozen forehead or refuse cake, might well suffer some kind of mirth-induced internal injury.
"It would be churlish not to thank the journalist concerned for saying that I look better now than I did in the early days of Harry Potter's success, and I am indeed grateful for the underlying compliment. In the interests of accuracy, however, I must point out that, far from losing weight, I've gained a good bit since the 'before' photographs featured in the article. So J K Rowling's top tip for today is: eat more. Perhaps my next project could be a revolutionary diet book?"
Thanks Bel!