"Half-Blood Prince" Location Filming Continues in the UK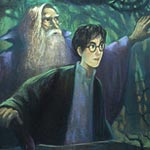 Nov 16, 2007
Uncategorized
Filming for the sixth film, "Harry Potter and the Half-Blood Prince," is continuing this weekend in Surbiton, a suburban area near London, England. The Wandsworth Guardian is reporting crews are preparing to film scenes at a local train station beginning this Friday through Sunday. Christopher MacKellaich, a Sergeant from the British Transport Police, commented on the filming in the article, which is scheduled to take place during the night, by saying:
"We will have officers down at the station on Friday, Saturday and Sunday night to assist with any public order issues associated with the filming.

"They are going to be filming overnight from late evening to the early morning and we will have six or seven officers down there each night."
The article also notes that transportation delays or changes are not expected as part of this production as 'filming would take place when trains stopped for the night.' Dan Radcliffe is also quoted in the article from a BBC interview we first told you about previously, in which Dan describes the "Half-Blood Prince" filming as going "really well."
"Harry Potter and the Half-Blood Prince" is slated to be released in theaters November 2008.
Thanks to Wendy for mailing in!