"Deathly Hallows" Translation Released in Portugal and in the Netherlands (Updated)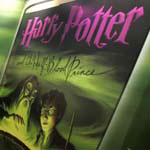 Nov 17, 2007
Uncategorized
The country of Portugal is now celebrating the release of "Harry Potter and the Deathly Hallows," as the translated version of the seventh book in author J. K. Rowling's series was released there today. TLC reader Rute, tells us of a midnight release party for winners of the previously announced contest, complete with a Potions Classroom and HoneyDukes Shop, full of tasty sweet treats. The party also featured people dressed up as the characters of Hagrid and Professor McGonagall, entertaining the children along with the sounds of Moaning Myrtle playing throughout the night.
Updated: In addition to its release in Portugal, the translation of "Deathly Hallows" was also released in the Netherlands on November 17th. The book, published by de Harmonie, was translated by Wiebe Budingh and contains 512 pages. The cover art for this book, containing the title, can be seen right here in our Image Galleries.
Thanks to Rute and Frits for mailing!