Sotheby's To Auction Original JK Rowling Sketch and More in December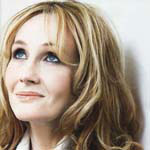 Nov 17, 2007
Uncategorized
As reported previously, author J.K. Rowling will be auctioning off a hand-written copy of her special "Tales of Beedle the Bard"book for charity via Sotheby's in London, England. The auction house has now added a few more items from J.K. Rowling that will be auctioned the same day, December 13, including this lovely original sketch by Jo. This pencil sketch was made originally by Jo for the for the BBC charity Children in Need in 1999. In the sketch, you can see Hagrid, Snape, Harry Ron Hermione, Professor McGonagall, along with Crookshanks, Dobby, the Sorting Hat, Fawkes, and a snitch. Estimates by Sothby's put this 10,000"15,000 GBP range.
Also due to be auctioned the same morning is an ink and watercolour drawing of "Harry Potter in Conversation with Buckbeak the Hippogriff" by artist Cliff Wright. This item by the artist who designed the jacket art to the UK Children's Editions of the Harry Potter novels, is "signed and dated in biro "Cliff Wright '02" in lower right corner, framed and glazed," with estimates of "3,000"5,000 GBP."
Finally available are autographed first edition copies of the earlier charity books written by Jo, "Fantastic Beasts and Where to Find Them," and "Quidditch Through the Ages," along with a signed set of four Deluxe editions of the first four Harry Potter novels.
A reminder that Sotheby's does have a special deluxe 48 page catalogue available for the "Tales of the Beedle the Bard" book containing a message from Jo and images from the book, where proceeds from the sale will benefit The Children's Voice charity. The actual handwritten book will soon go on display in London starting Sunday, December 9 at 10:00am before the actual auction on December 13, and this viewing is open to the public.