WB Revamps "Order of the Phoenix" Website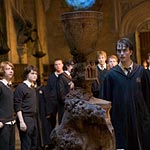 Nov 17, 2007
Uncategorized
Warner Brothers has given the official US "Harry Potter and the Order of the Phoenix" website a complete makeover today. The site is now revamped to highlight the OotP DVD, with a special countdown clock that you can embed on your blog or website, ticking off the days hours and minutes until the release here on December 11.
Also new are links to the Sweepstakes entry form that we told about recently to win a trip to the set of the " Harry Potter and the Half-Blood Prince" movie. The trailer for the OotP DVD is now featured on this redesigned website, using many of the backgrounds first seen on the UK version of the Harry Potter site. If you click on the spinning "Join the DA" logo button, you will find the Defense Against the Dark Arts training website has also been revamped with a special banner you can embed on your site, promoting the DVD and game.
Finally, there is link to a new Harry Potter DVD website, that has a preview of the interactive Harry Potter DVD game we told you about previously, and you can watch a demo of the game. Other new tidbits include an animated feature on the upcoming special trunk set collection of all five of the Harry Potter DVDs, a link to the popular magical trading cards, and links to the WB DVD shop, where you can watch some of the old trailers to the earlier film.