Wizard and Muggle Photography Contest Winners Announced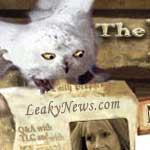 Nov 18, 2007
Uncategorized
Last month our contest crew brought you their latest contest, to see who could dress most creatively as a wizard 'blending' into Muggle society. You sent in your most creative and hilarious images of wizards taking to the streets, interacting with non-magic folk, and showing off their Muggle dressing skills. Our contest staff has handed in the results, and we can now announce the winners of our "Wizards Dressed as Muggles" Contest.
First Place: Muggles Take Manhattan – Merri M.
Hi! I'm Merri and my sister Terri and I went to NY for the Open Book Tour. Besides finding out Dumbledore was gay live, we also did a photo shoot entitled " 'Muggles' Take Manhattan". I fell in love with the sombrero, Hawaiian shirt and kilt I bought from the same Muggle shop. My sister bought her ensemble from a Muggle yard sale: the turban, shirt, vest, and scarf/skirt. We bought the rain boots together and wore them all the time… since it really could rain at any moment. This shot is from a subway station where it seems we were going through the exit, not the entrance. A few very kind Muggles tried to help us… with little success. Apparently we needed these little bits of yellow paper, but we just gave up and walked.
Second Place: Muggle Library – Janet K.
My name is Ariel Flewdraft, and I work for the Misuse of Muggle Artifacts division of the Ministry of Magic. We got a tip about a book with magical portraits in it that had somehow wound up at a muggle library, so I had to go find the book, check it out under a false name, and of course that library will never see the book again. It was hard to get the book out of the building discretely though, because the portrait on the front cover WOULD talk to me!
Third Place: Teen Wizards Rent Movies – Tracey G.
As a reminder, we recently launched our newest contest where we asked you to express what this past year in the fandom has meant to you using either art, video, or creative writing as the medium of your choice. The deadline to enter the Potter Year in Summary Contest is December 23, 2007 at 11:59 pm EST. Complete rules and guidelines can be found here.
For more information on this and all of our other contests, be sure to check out the Contest Page as well as the Contest Corner discussion forums on the Leaky Lounge.
Congratulations to all!