Gilderoy Speaks: A New Interview with Kenneth Branagh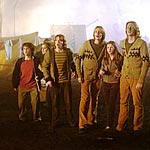 Nov 19, 2007
Uncategorized
MTV has a new interview with Kenneth Branagh who discusses his roles as Gilderoy Lockhart in "Harry Potter and the Chamber of Secrets." The acclaimed actor says he was never approached about returning to "Order of the Phoenix" to film the part of Lockhart at St. Mungo's.
"It would have been nice to have been in [Phoenix]. He was quite a popular character, Lockhart. There was no one quite like him' Branagh said. "[But they never called] to my deep disappointment."
The actor, who was nominated for an Academy award for his direction of the film "Henry V," also confirms that he was one of the people considered to direct "Prisoner of Azkaban," however he says he does not think he would direct "Harry Potter and the Deathly Hallows."
"I was in the running to direct the one that Alfonso Cuaron did ["Prisoner of Azkaban"]. It was while I was working on the second one' he revealed. "They all felt for a minute, maybe it'd be great if Ken did one. It didn't work out. It would have been interesting.
"I think there is a limit to what a director can bring to the films for reasons I'm sure you can imagine' he continued. "[But] The thing that really drew my interest was working with those kids. I liked them very much. I thought perhaps that their potential hadn't yet been realized, or at least I felt they were hungry and were about make huge strides as actors."
So would he still like to direct "Deathly Hallows' maybe throw his hat into a discussion which already includes Guillermo del Toro among others? "I think they've now just got such a great bunch in the stable between Newell, Cuaron, Yates, and Columbus that they'll probably choose from the ones that have already done one' he said, squashing any chance he'll come back. "[And they'll] do very nicely indeed."
Thanks Sarah.