Rumor Alert: Halloween and Holiday Plans Afoot for Harry Potter Theme Park?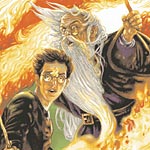 Nov 19, 2007
Uncategorized
As announced earlier this year, there is to be a new Harry Potter attraction as part of the Universal Orlando theme park in Florida. While this park is not set to open until late 2009 or early 2010, there have been many rumors regarding this park for sometime, with another new rumor surfacing today at Jim Hill media. The long time Disney and theme park blogger has some interesting comments about possible Halloween and Holiday events being planned in the future, as well the marketing campaign to promote the Harry Potter name with Universal. Mr. Hill writes that "many of Universal's TV commercials for 2008 to be peppered with brief clips from "Harry Potter and the Sorcerer's Stone," "Harry Potter and the Chamber of Secrets," "Harry Potter and the Prisoner of Azkaban," "Harry Potter and the Goblet of Fire," and "Harry Potter and the Order of the Phoenix."
Of greater interest perhaps, are Mr. Hill's additional reports regarding possible seasonal events in the works for the Harry Potter park. He notes that plans may be afoot to hold "a yearly "Holidays at Hogwarts" type of event at Universal Studios Islands of Adventure. With carolers strolling through the streets of Hogsmeade and a traditional English Christmas feast being served nightly in the Great Hall at Hogwarts Castle."
Mr. Hill also says that Universal is hoping to take on the very popular "Mickey's Not-So-Scary Halloween Party" at Disney world. Quotage:
As the story goes, once Phase One of "The Wizarding World of Harry Potter" opens in 2009 (FYI: That phase of the project will probably only include Hogwarts Castle and Hogsmeade Village. Phase Two — featuring the Forbidden Forest and that Weasley-family-flying-car attraction — isn't expected to come on line 'til sometime in early 2010), this new "land" will then allow Universal to offer yet another after-hours seasonal event, " Halloween at Hogwarts." So while Mom & Dad are next door at Universal Studios Florida getting the snot scared out of them at Halloween Horror Nights, their youngsters can be trick-or-treating in a deliberately scare-free environment over at IOA."
As exciting as this all sounds, please keep this in the rumor category until we can obtain official confirmation. If you missed the announcement of this Harry Potter attraction coming to Universal Studios in Orlando, you can see the wonderful concept art here in our galleries, as well as sign up for additional emails from the Universal site promoting Harry Potter, via this link.