Parade Magazine Online Updates with New Quiz, Puzzles, and Sweepstakes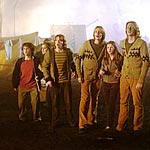 Nov 20, 2007
Uncategorized
Parade Magazine, which appears in many Sunday newspapers across the United States, let us know today of a few new online features in which you can put your Harry Potter knowledge to the test. In addition to their 'Decade of Harry Potter Quiz' we showed you a few months back, they now have a new feature where you can solve a number of puzzles featuring actors from the Harry Potter films. You can also check out interviews with Harry Potter actors Dan Radcliffe (Harry Potter), Emma Watson (Hermione Granger), and Rupert Grint (Ron Weasley) that Parade Magazine previously conducted with the Trio this past summer. Included with these interviews are images from a photo shoot and a gallery for each actor, showing how they have grown since first starring in "Harry Potter and the Sorcerer's Stone" in 2001. Next, you can try your hand at their 'Harry Potter and the Deathly Hallows Quiz' which questions you on the seventh and final book in author J. K. Rowling's series. These questions range on a wide variety of topics and include five bonus questions provided by our own Melissa Anelli.
A new sweepstakes has also been launched by Parade Magazine to win a trip for two to Los Angles, California or your copy of twenty-five "Harry Potter and the Order of the Phoenix" DVDs. In order to enter the Pop Culture Sweepstakes, you must be aged 13 or older and fill out the entry form right here. The sweepstakes is open now and will run through December 18th. The lucky winners will be announced on or about January 4, 2008.
Many thanks to Alexis for mailing!