PotterCast 125: "Conference Call"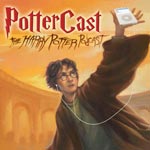 Nov 20, 2007
Uncategorized
Fan conferences are the talk around town in this week's PotterCast, our Harry Potter podcast. In our 125th episode, Sue and John chat with Becky from the organizers of Portus, the fan conference in Dallas, Texas, and to Amy, from Terminus , set to be held during the summer of 2008 in Chicago, Illinois. In these interviews, we go into much detail about the two conferences and of what each conference will bring those in attendance. We will have much more on this theme in the future, as we check in on 'What's Up In the Fandom.' Our own Kristin Brown is also back with us to share some of your latest owls in a new MailBag. We also bring you the latest news from the "Half-Blood Prince" casting office, the "Order of the Phoenix" UK DVD release, author J. K. Rowling's "The Beetle and the Bard" charity auction, and much more. To listen, just hit the "Play" button on the right side of the page (–>), or use iTunes, or direct download.
"Conference Call"
– There are some excellent conventions coming next year, we learn about them from their organizers.
– Glimpses of "Order of the Phoenix" DVD.
– The latest "Half-Blood Prince" Casting Information.
– Luna Jewelry available from Noble Collection.
– Reminiscing fandom stories.
– Has the perception of Dumbledore changed?
– Thanksgiving in a sandwich.
– Buy "Jingle Spells."
RT: 1:25:58
Editor: Stede Bonnett
Scribbulus
Podcast Alley
Digg
Jingle Spells Wizard Rock CD
Portus: July 10-13, 2008
Terminus: August 7-11, 2008
Direct download (40 MB).
Direct download low-bandwidth (10 MB).
Remember you don't need an iPod to listen. Listen easily on iTunes, which you can download and install here, by clicking here to listen, or you can just use the streaming Flash player at PotterCast.com or just on the right side of this page. Discussion of the PotterCast is right here. Enjoy!