Fanfic and False Press – The Real Story on James Potter and the Hall of Elders' Crossing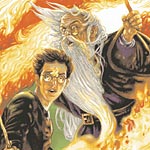 Nov 21, 2007
Uncategorized
Many of you have written to us regarding the Web site for James Potter and the Hall of Elder's Crossing, which looks remarkably similar to an official Harry Potter Web site that might be put out by Warner Bros. As earlier reported, the site heralds a fanfic written by George Lippert, a 37-year-old Web designer from St. Louis, MO, who wrote the book-length fic for his wife and children and plans to release a chapter a day in December.
Some papers, including The Scotsman, have reported that J.K. Rowling's representatives are threatening legal action against Mr. Lippert. This is entirely false, and some papers have retracted that information publicly.
Mr. Lippert contacted TLC to tell us the following (which has been backed up by the Christopher Little Agency, the entity that would pursue a legal action if there was one to be had):
"Information regarding any 'legal action' on the part of Ms. Rowling is quite false. I sought contact with Ms. Rowling via her agent, offering her an advance copy of the story for her perusal. This was accepted (at least by her agent), and presumably they are currently perusing JPHEC at this moment to assure they have no problems with the content. Additionally, they have assured me that as long as I have no intentions of publishing the book for profit, that it is appropriate for children [no pornography], and that I do not intend to attribute it to Ms. Rowling, they have no problem whatsoever with my free release of the book."
Again, the Christopher Little Agency also told TLC of the phone call, its contents, the requested provisions regarding the work, and the request to share the fanfiction with J.K. Rowling (though whether it has indeed gone to J.K. Rowling herself is unconfirmed).
Mr. Lippert has said that he's quite surprised by all the attention to his work and didn't intend for the story to become so egregious.
Thanks everyone!