J. K. Rowling on Forbes List of UK Billionaires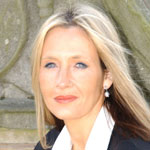 Nov 21, 2007
Uncategorized
Forbes Magazine has released a new list detailing the growing number of billionaires from the UK, and have included Harry Potter author J. K. Rowling among the individuals on this year's list. In addition to being the only woman on the list, Jo Rowling is also the only author. Forbes goes into more detail about our favorite author in a profile, which states:
Rowling is the only author on our list. The seventh (and last) installment of the Harry Potter series, Harry Potter and the Deathly Hallows hit bookstores in July and worldwide sales of the first six topped 325 million copies. The film series, from which Rowling enjoys a cut of royalties and merchandising has grossed $3.5 billion, and there's no doubt three more movies to come.
On a related note, Jo has also received the honor of being chosen, via a poll, as America's top pick for a celebrity substitute teacher for a day. Sponsored by the The National Education Association in the lead up to Substitute Educators Day, people voted for their choice of celebrity they would most like to see as a substitute teacher. With 25% of the vote, Jo Rowling topped such celebrities as Microsoft founder Bill Gates, athlete Tiger Woods, and actress America Ferrera from the TV show "Ugly Betty" for the distinction.
Thanks to HPANA.