Rumor Alert: Madonna's Daughter a Half-Blood Princess?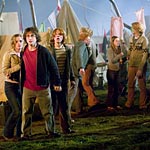 Nov 21, 2007
Uncategorized
Despite the formal press release earlier this week from Warner Bros stating that casting is now complete for the upcoming "Harry Potter and the Half-Blood Prince" film, UK tabloid The Sun has a new article online tonight involving the sixth Harry Potter movie, and the daughter of pop superstar Madonna. With a headline blaring "She's Lourdes Voldemort," the paper reports that:
MADONNA's daughter LOURDES – nicknamed Lola – has been asked to join Harry Potter and his pals battling Lord Voldemort in the next film in the blockbuster series. Warner Brothers approached the 11-year-old – whose dad is fitness trainer Carlos Leon – through Madge…An executive at Warners wanted to cast Lola in the last Potter film and has renewed his interest for the next movie. Lola would love to do it – she is a huge fan. Lourdes was only offered a small part, but it could be her big break.
As always, please keep this very much in the rumor category until we can obtain confirmation. Thanks Radcakesfan!