"Deathly Hallows" Translation Updates for Sweden, Poland, and Greece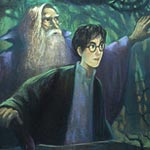 Nov 23, 2007
Uncategorized
Even more good news today for fans waiting to read "Harry Potter and the Deathly Hallows" in their native languages, as the book has recently been released in Sweden, in addition to a slew of other publication news. First, Tiden Young, who publish the book in Sweden, released their edition on November 21, to many fans who stayed up late at midnight release parties across the country. As we told you previously, this translation contains 783 pages and its cover art can be viewed right here. On a related note, the Norwegian translation of the book is now set to hit store shelves on December 1, 2007.
In addition to this, news has also come from Media Rodzina, who publish the Harry Potter novels in Poland. They have also recently announced that their edition of the seventh Harry Potter novel will be published at midnight on January 26, 2008. Their translated edition, the title of which you can view on their website, was translated by Andrzej Polkowski and is set to contain approximately 800 pages.
Finally, the "Harry Potter and the Deathly Hallows" translation will be released in Greece this coming Saturday, November 24, 2007.
Many thanks to Sarah, Departament Tajemnic, and all who owled!