Entertainment Weekly Names J.K. Rowling "Entertainer of the Year"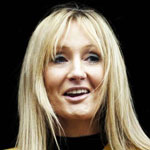 Nov 23, 2007
Uncategorized
Entertainment Weekly has named J.K. Rowling their "Entertainer of the Year" for 2007 (cover of new issue with JKR, here).The magazine says the reason they selected the Harry Potter author as their top entertainer was "because she did something very, very hard, and she did it very, very well, thus pleasing hundreds of millions of children and adults very, very much. In an era of videogame consoles, online multiplayer "environments," and tinier-is-better mobisodes, minisodes, and webisodes, she got people to tote around her big, fat old-fashioned printed-on-paper books as if they were the hottest new entertainment devices on the planet."
Praising the timelessness of our favorite author's works, the article continues:
"As it turns out, the Harry Potter books are much richer than their progression from lightness to darkness, from childhood to adulthood, from the episodic simplicity of chapter-books to the heft and sweep of epic novels, and in their constant, book-by-book recalibration of what their readers were prepared to absorb, they've proven unlike anything else in a century of children's literature. Can there be any remaining doubt that Rowling meant every word when she said, some time back, that she planned every aspect of her story "so carefully I sometimes feel as though my brain is going to explode"? The planning clearly paid off, not only in the blossoming of the books into a worldwide cross-cultural phenomenon but in the widespread declarations that greeted the July publication of volume 7, Harry Potter and the Deathly Hallows, that Rowling had created something timeless, a tale that children would read 25 and 50 years from now."
…
Rowling's writing is distinguished by its great and sustained generosity " toward her readers and her characters " and the books she spent so long creating are entertaining enough to satisfy anybody who reads them in order to flee the cares of the everyday world, even if what looks like a chance to disapparate ultimately lands us in a universe very much like the one we were trying to escape. As odd as it may sound, Rowling is a realist. Even when the incantations are flying (not to mention the people), she stays focused on the humanness of what she's writing about: the cost of pride and stubbornness and vanity, the toll of living in fear, the ache of loss, the search for home, the pain of holding a lifelong secret, the need to be loved, the quest to find out who you truly are."
Hear hear! The new issue of "Entertainment Weekly" featuring JKR on the cover will be on newsstands this weekend.